Summer Berries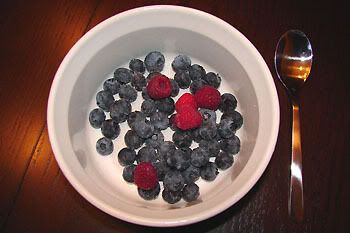 When I was
a kid, my neighbour had two long rows of raspberry bushes growing in her backyard. I had an open invitation to wander over and pick as many as I could, because she could not possibly eat them all.
Even though
I had an endless supply of raspberries, my favourites were always blueberries, which is why
Boo Berry
was always my favourite monster cereal.
Oh
, the things you can do with blueberries! Pie, in a bowl, and uh, that's all I can think of.
So last year
my friend gave me a raspberry bush which I planted in our backyard. And every day our awesome little bush yields between 4 and 7 super-awesome, ripeified berries.
We bought
a little tub of blueberries for the everyday low price of $1.88 and I sprinkled my home-grown raspberries on top and had myself a super-delicious fruit bowl.
It feels good
eating something from our own garden. Sadly, my list of awesome things to do with raspberries is even shorter than my blueberry list. Stinkin' useless raspberries.
Perhaps
I should submit a question to
the Useless Men
on what to do with raspberries.
Labels: blueberries, raspberries