Radeon is Rad-ical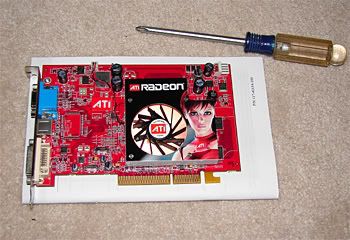 Not so long ago
my birthday made an appearance then quickly went back into hiding. He's a sneaky devil and likes to surprise me only once a year. But he's predictable so I always know when he's going to show up.
This year
I was prepared as usual, but surprised when my Suz got me, in a round-about kind of way, a Radeon 512 mb video card for my comp. The card features a good-sized cooling fan which has a nifty image of a girl on it.
I was surprised
to find a company would spend extra time and resources printing high quality images on their components when they'll never be seen once placed inside the non-transparent case of the computer.
Anyway,
I am happy to find that I'm able to play my most favouritest games, like C&C Zero Hour, with the graphics cranked to the absolute max. Even still, I am finding I must turn the game speed way down to be able to play properly.
Now
my buildings can be captured 7x faster, my gattling cannons blown up 6.5x quicker, and my Chinese Nuclear Migs can crash at record speeds while my pilots have mere milliseconds to scream "China going dowwwwwn!"
Oh,
and my carpal tunnel can advance 8x faster also.