Winter "Whoa's!"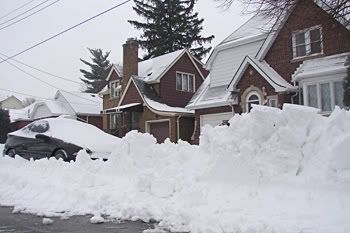 This morning
many people in our city awoke to a white surprise. We recieved our first big storm of the season and NOT shovelling was not an option. Unless you owned a snowblower.
I, however,
wasn't caught off guard. Last night my friend called me and told me of the impending doom. Although he can't predict the weather, his information was far more accurate than any Weather Network forcaster could offer. He's a pilot for Westjet and he told me that his morning flight had been pre-cancelled due to the storm that was a-comin.
Being Sunday,
the massive quantity of heavy, sticky snow shouldn't have been a problem. Except Suz had to work.
Emotions
ran quickly. At first she was upset because she was going to be late. Then she became happy as she declared she would "
just blast through it
" with our 67 hp hybrid.
I laughed.
She cried. We grabbed shovels and got to work. yes, there was a ton of snow. Even at the lowest point surrounding my car, the snow was nearly 20 inches high.
After 30 minutes
of shovelling the Insight barely had enough clearance to escape the driveway. 60 minutes after that I finally deconstructed the replica Great Wall of China the snowplow had built around my Talon. And the worst part is, winter is still 3 weeks away.
Labels: snow