Multi-Christmas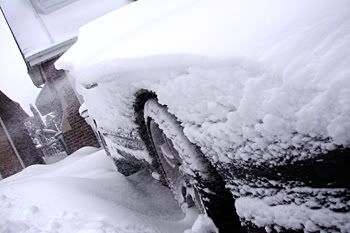 This year
Suz and I are having multi-Christmas due to a change in our standard Christmas plans. And it has already started. So, I offer you this simple phrase, to men from 1 to 92; although it's been said many times, many ways:
my apologies.
Yes,
my apologies to all the men out there who are just about to start their Christmas shopping this week - because not only did I finish my shopping weeks and weeks ago, but gift-opening has already begun.
It started
Saturday night when we attended Tonton's annual Christmas party. The evening was full of good times, Jesus action figures, and the house was decorated to the max. We indulged in rich chocolate desserts and fancy beverages till the wee hours.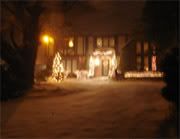 The house was full of elaborately decorated Christmas trees, just like
this one,
their 20-footer. Outside, the snow storm transformed their yard into a winter wonderland. Unfortunately it also transformed the roads into a driving nightmare.
The next morning
we were completely snowed in. Which was actually quite enjoyable, because Suz and I held our own Christmas in the cozy warmth of our fireplace. Breakfast was the typical Christmas feast of chocolate and candy from our ravaged stockings, and later we took the Talon out for a spin, literally, in the snow.
Later this week
we'll be exchanging presents with my sister and parents before we head off to Vancouver for our final Christmas with Suz's family. I'm very excited about the trip and find it quite fun to do something different this year. I promise next year everything will return to normal, IE - no shopping until December 24th.