Twelve Thumbs Down To Cloverfield
I like J.J. Abrams
. I've liked his work a lot. Based on his past accomplishments, I had no reason to think anything bad about Cloverfield. In fact, I was expecting it to be awesome.
J.J. Abrams
produced and wrote the TV shows Felicity, Alias, and Lost. With that track record, one would think he knows what he's doing.
One
would be wrong.
Cloverfield
is filmed entirely with a Handycam, from the perspective of a young dude, exactly along the same lines as the Blair Witch Project. The main difference between the two styles is that the main character in Cloverfield seems to be suffering one enormous epileptic seizure for the duration of the movie.
I've seen
my fair share of home movies, and I know they shake and cause motion sickness. But Cloverfield is unreal. It's simply impossible for most normal human beings to watch this kind of vomit-inducing camera shake, and I have the math to prove it.
Our theatre
, on a Sunday afternoon, contained 47 movie-goers. At $10 a pop, the theatre was potentially earning $470. Out of the 47 viewers, six walked out of the theatre, hands covering their mouths, chunky-liquid-ketchup-flavoured popcorn spewing forth - both onto the floor and anyone sitting in an aisle seat.
These viewers
were not to return.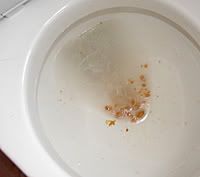 Six
is exactly 12.7% of the audience. Using that as a baseline, assume that every theatre will lose up to 12%* of its audience. Opening weekend, Cloverfield apparently blew the competition away, earning an average of $12,000 per theatre.
But subtract the 12% of viewers who blew the technicolor rainbow all over the theatre manager's shirt, and you're left with $10,560. Add to that the word of mouth spreading rapidly about Cloverfield's unwatchability and you can see where those numbers might go.
Right
into the toilet, just like everybody's popcorn and hotdogs.
The Cloverfield story
is excellent, and I would have loved it and likely bought the DVD, had it been filmed properly. I know exactly what they were trying to do with the whole Handycam thing, and I love the idea. But the camera shake is so unbelievably bad that the special effects are all but wasted, as you can never really see what's going on. Even the tough-stomached people who sat through it complained as they left.
Two thumbs
up to Cloverfield's story, but twelve thumbs down for the idiotic execution. Cloverfield is so shakey, it makes The Blair Witch Project look like it was filmed with a tripod.
*
Individual theatre results may vary!
Labels: Cloverfield, movie, vomit