Florida: It's Like High School.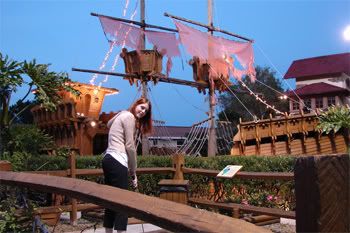 Our trip to Florida
was a moderately smashing success. Actually, that phrase makes about as much sense as ordering an Extra Medium coffee, so scratch that. The Florida trip was totally excellent, even though the weather wasn't.
The reason
for the excellence of the trip was threefold: excellent friends, excellent price, and excellent fun.
The two friends
we travelled with happen to be pilots who work for Air Canada, so procuring tickets for the airline was much less painful than usual. It doesn't even matter that we missed our first flight by 5 seconds and had to wait 5 more hours for the next one.
Nor does it matter
that the toilet on that plane exploded and leaked down the side of the fuselage, then had to be cleaned up and paperwork had to be filed while we waited and waited. No. None of that matters because the price just couldn't be beat. Except, perhaps by a big European named Stipe - with a stick of course.
The highlight
of the trip was an old mini-putt place near Treasure Island called Smuggler's Cove. When I was an unruly teenager the line for this place in the summer often topped an hour, as it was of amusement park quality. Now that I'm an unruly adult, I have the patience for such things, but luckily, being winter, we didn't have to wait a bit.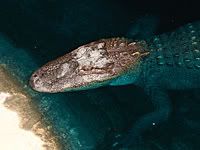 The place
was exactly as I remembered it, from the massive pirate ship right down to the super sweet, nasty-ass alligators chillin' in the artificially blueified swamp. Upon viewing the lazy gators fenced off behind a military-approved-possibily-electrified-could've-been-barb-wired fence covered in signs reading "Do
not stick your fingers into the gators' eyes, buttholes or mouths
", one particular friend wondered aloud if they were real.
I wondered
if he should have kept that thought to himself.
This was not
the first time we had to reassure our Air Canada friends that something was actually real. It was about the fourth time, in fact. After two cranes and a pelican. I don't think I've ever said, "
yes, it's real!
" more in my life. It didn't matter what I said as the dang things had to move before anyone believed me. Then I changed stories and explained, not-so-convincingly, that they were robots. When still no one believed me, I punched them all and ran away crying.
Like
I said, I'm unruly.
Despite the rain
on Thursday and the overcast Wednesday, we had a grand time hanging out in my parents' condo, eating tasty bagels, teasing each other and going to bed early. It was kind of like high school all over again.