Seymour Butts
Mt. Seymour
juts 4,754 feet upwards, basically, out of Vancouver. It's a force of nature tamed by humankind, with a decent highway right to the top, where ski slopes entertain.
Suz and I
were hoping to get some nice mountain photographs when we visited her brother (and family) for Christmas, and one day of sun was all we needed. Every morning we woke up to the same question, "
What do you want to do today?
" The answer was always "
Mountains!
" Finally, on one sunny day, we headed for Seymour.
At the base
of Mt. Seymour the temperature was +7C. A sign read "Warning. Extreme winter driving conditions. Only 4x4 vehicles and cars equipped with snow tires may proceed."
We proceeded.Slowly
the lush ferns and trickling waterfalls were replaced by snow and ice. With higher altitudes came lower temperatures. The blue sky vanished as we hit the clouds. Higher and higher we drove, until the snowbanks rose higher than the BMW's roof. Finally we broke through the clouds at the peak of Mt. Seymour to find the temperature was 0.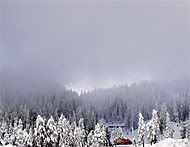 Clouds were
moving all around us as we explored. The views were pretty spectacular in nearly every direction. As long as the clouds cooperated, we were able to see straight down into the city. Other times, an eerie cloud cover settled over the trees.
One interesting
sight was
a chairlift
destroyed in a 1998 windstorm. It still stands, but the roof is heavily damaged and appears to be rotting. There are 6 TV stations that have their broadcasting towers on Mt. Seymour along with 15 area radio stations.
Mt. Seymour
was surprisingly bright and jam-packed with skiers, tobogganers and snowboarders. Except for being in a jet, it is the highest I've ever been. Suz exclaimed, "
This is where Santa lives!
" upon reaching the summit. But she was wrong. Santa lives in my basement, chained to the wall.
Labels: Mt. Seymour, Vancouver