Replacement Windows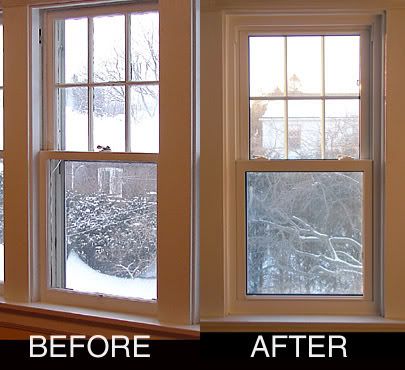 Every year
millions of people eat at Jack in the Box. And every year millions of people replace their windows. Yet I've never known anyone who has had to do either of these things.
Because
of this anomoly, I didn't know what was a good price, didn't know which companies were reliable, didn't know how much damage to expect to our trim, and didn't know how quickly the job could be done.
The one thing
I did know, was that our looky-outy things needed to be replaced. Why? They were 69 years old. When things reach that age, stuff happens. Bad stuff. Our wooden windows were totally rotting, some panes of glass were totally cracked, the locks were totally broken, and they were covered in liver spots.
However
the worst part was the cold air leaking in, and warm air escaping, causing those particular windows to fog up (seen on left). The problem areas were noted during our
home energy audit
in September.
If you'd like
an audit, check out
www.energuy.ca
It's not the company I used, but it should've been. Cam, one of the most decent guys I know, will hook you up with the goverment, and get you some sweetass rebates.
On Wednesday,
our installers came and ushered our sunroom and our master bedroom into the modern era with double-pane goodness. In all we had 14 windows replaced (just under half our total of 34 windows) along with two exterior doors. By comparison, our last house only had 12 windows in total.
Our sunroom
was once the eyesore of our house, with flaking paint and rotting wood. But now, with the perfect white capping, it's going to be my favourite place to chill this coming summer.
Once the work
was complete, I immediately noticed how much warmer
our master bedroom
has become. The windows are warm to the touch and look fantastic, as we ordered the non-broken glass variety. The low-E argon gas is, sadly, invisible, but I've been assured it's doing its job.
For those
interested, I'll let you know if we see any visible savings on our heating bills in the upcoming months.