Adventures In Conferencing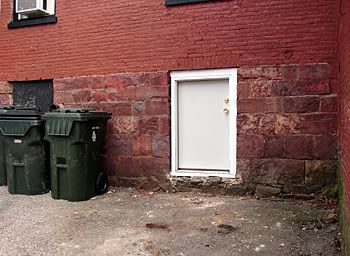 Travelling
used to seem silly to me. Silly Billy, in fact. But I have done an about-face on that particular opinion and love travelling so much that I'm going to ask it to marry me on Valentine's Day.
Every fall
Suz has to attend a business-related conference which takes place in the north-eastern states or eastern provinces. In previous years we've enjoyed travels to Connecticut, where we checked out some radical cemeteries, and Vermont, where
we bumped into Senator Peter Welch.
For the
2008 conference, we just found out, we will not be journeying to the wonderful United States. Instead, the conference will be held in Montreal, which is still pretty le dope. When we learned of the conference this year, I started going through my photos from previous conferences and found the above door.

We are always
excited to travel to a city we've never been, but myself moreso. For me, it's a free vacation, as the room has already been paid for. I spend my days lounging on the beds in the hotel room, watching movies until 2 in the afternoon. Seasoned students or cable guys with early morning appointments may scoff at my inability to stay in bed longer, but my bladder has some sort of bizarre control over me that I can't disobey.

While I spend
the afternoons taking pictures and checking out the sights, Suz is doing two kinds of working. The regular kind, and the 'net' kind. She does get spare time however, and we go off and have little adventures in these beautiful cities we hadn't really contemplated visiting otherwise.
The last conference
we attended was chock full of pseudo-celebrity encounters, as we partied with Senator Welch, and, to our surprise, found Gary Coleman's secret Vermont get-away, which really wasn't very well hidden.
Labels: conference, Gary Coleman, vacation