Amputee Ghost Cat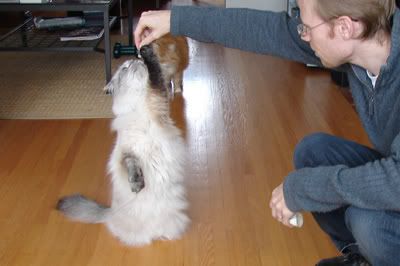 The skeletons
in my closet clatter with an uneasiness that sends chills reverberating throughout our house. The furnace mysteriously halts as an unstoppable cold fills each room. It is searching for something.
70-year-old
windows rattle. Eerie wind creeps through the cracks and the coldness grows. Another being dwells in our home, and he is hungry. Strange noises emanate from unoccupied rooms... then suddenly...
The Amputee
Ghost Cat appears!
Hovering
, with no hind legs, the amputee ghost cat calls for food with a surreal, whispering meow. As faithful servant, I obey. Only the finest roasted, shaved chicken will do for the amputee ghost cat.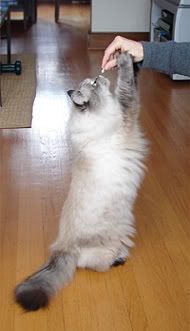 With his large paws
he reaches for the food. The ghost cat makes contact with my hand - and it is cold. I tremble as I feed the starving spectre. His piercing blue eyes pierce my own eyes with a piercing stare that pierces uh, stuff. I must obey.
My hands shake
like a diabetic on a sugar-low as I tear off another strip of tasty chicken for the phantom before me. I wonder what happened to his hind paws as I try and distract myself. I must stay focused. The amputee ghost cat can sense fear.
"
Only a few more tender pieces of delicious chicken and he'll be satisfied
" I think to myself. Sure enough, the ghost cat drops to the ground. His hind legs reappear and he walks away, licking his chops.
I have survived
another feeding.