Holy Basement Renovation!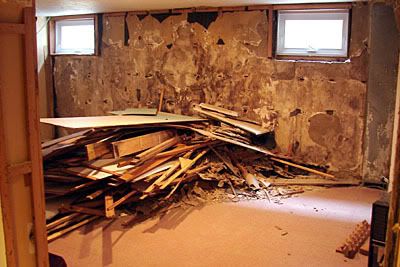 I am a conflict.
I'm very handy and have a desire to do many things, yet I also love lounging with a drink in one hand, and maybe a drink in the other hand. I possess both the love and the hate of renovation. Love, because of the ka-ching. Hate, because of the problems. Love, because of the flow of ideas and creativity. Hate, because of the nagging.
Uh,
nagging problems. Yeah, that's it.
I know
first-hand that renovations equal big bucks when moving. Among the many jobs (too many if you ask Suz) done on our first house, an 850 sq. ft. 1942 bungalow, was a kitchen reno, done completely ourselves along with the help of a couple of friends who love swinging sledgehammers around but don't have a place to do so. I don't know why somebody doesn't open a sledgehammer gym.
"
I'll never do another kitchen again
," were the words that escaped my mouth upon completion of the puny 8' x 11' reno. Instead, I am now tackling a basement. An entire 31' x 12' basement plus 6' x 8' landing & staircase. A basement that includes a laundry room, a full bathroom and a bar.
I've been
spending my weekends working on the basement and spending imaginary money in my head. It's exhausting. I haven't had a day off in months. Actually, that's a pretty decent exaggeration, because I hardly work on the basement ever. But it's so exhausting just thinking about it, that it feels like I'm actually working on it.
And the work
is coming along. The panels have been ripped down. The framing on two walls has been ripped off. The half-inch thick plaster ceiling is laying in rubble on the floor. The bar is no more, and the laundry room and all its dirty secrets has been exposed.
When the work
is complete, the basement will be my little piece of heaven, aside from the garage and
its contents,
of course. I know I'll get back every penny I put into it, as we're lucky to have a 7 foot, useable basement in a house of this era.
And I'm hoping
to make a little more money off it by using eBay! I've
decided
noticed there is a giant crumbling, stained Virgin Mary holding a swadling baby Jesus in the plaster on the north wall, and I'm cashing in just like all those other lameasses who sold their toast and tar stains of religious images to suckers whose favourite thing in the world, next to being taken for a chump, is all things Jesus.
So, what say you? Shall I sell my wall? Shall I sell
my Virgin Mary
on eBay?
Labels: religion, renovation