Halloween Panic in April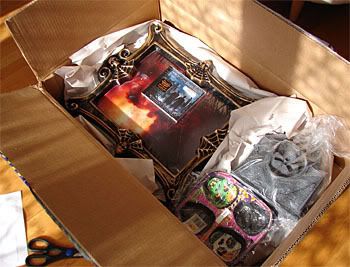 It's amazing
how one package, a simple brown box, can cause emotional extremes between different people. One extreme contains the child-like emotions of the person who wanted the contents, who giddily looked forward to the day it arrived, and who couldn't wipe that stupid grin off his stupid face until the next stupid day. The other extreme is, well, Suz.
Fright Catalog,
selling Halloween wares online longer than almost any other site, is a Halloweener's dream. Thousands of Halloween items fill their web pages selling from a buck, up to about 30 grand. Their one and only downfall is their high prices, which can be combatted by purchasing during the off-season.
Like April
for example.
During
the off-season there are promotions a-plenty, such as the 50% invite I received a little while ago. Immediately I began scouring the familiar pages for severed heads and the like.
Unfortunately,
blood-soaked items which were not in stock could not be purchased at the super awesome low prices. But I was still able to find some deliciously creeptacular elements with which to spice up the house in October.
Mere days
after I placed my order, Mr. DHL showed up with my big brown box resulting in my stupid stubborn smile; a happiness rivalled only by single-digitly aged children at 7 a.m. on December 25th. In order to compare my freaky new toys to my older freaky toys, I spent the night unpacking my 4x5 ft. Halloween closet, an event that takes hours to complete.
And that
spectacularly messy "event" is exactly what causes the extreme on the other end of the emotional spectrum, namely, Suz's panic attack.
Labels: Halloween