Beck's Back From Africa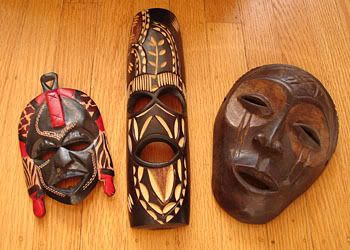 On Monday night,
a one-a.m. knock at the door ended a 4-day nightmare for Suz's sis, Beck, who was staying with us upon her return from almost a year in Africa.
Beck,
a former CBC reporter, went first to a University in South Africa to teach journalism. Mission accomplished, she then ventured north to Kigali, Rwanda, to teach more journalism at the National University of Rwanda as part of the noble
Rwanda Initiative.
Most of the
country's journalist population was decimated in 1994, along with close to a million others, during the horrific Rwandan genocide involving the Tutsis, the Hutus.
During her
time there, Beck travelled and acquired many spiffy wood carvings, which were painstakingly wrapped in newspaper, and bright artwork that was carefully rolled, and packed in her suitcases.
But when
she arrived in Toronto, Beck's African souvenirs, her clothes, her shoes, and everything she had acquired during her stay in Africa, didn't.
Almost
an entire year's worth of memories was gone.
After a lengthy
4-day 'fight' with mostly unsympathetic United Airlines customer service reps, Beck was told her suitcases were untraceable and she should give up hope of ever getting them back. Furious, she filed her lost luggage report and compiled her very long list of lost belongings and their respective values so that the airline could reimburse her.
Unfortunately,
that's not what she wanted. The money didn't really mean anything. She wanted her year in Africa back. And then, a miracle happened.
At 1:03 a.m.
I ran downstairs and opened the door to a friendly United Airlines employee standing in the dark with both of Beck's bags, bursting at the seams with African goodness.
An overjoyed Beck got her Africa back.