Air Is Neat
The DeLorean
is cool - and in more ways than one. Forget the stainless steel body, which makes the car better-suited for flux dispersal. Forget the alternate-1985-Biff-head-cracking gullwing doors. The DeLorean, essentially, has a cold air intake.
Cold air
intakes are designed to pull cool, outside air into a vehicle's engine instead of using the hot air surrounding the engine. Why is that good? Science! Cool air is more dense, and therefore contains more oxygen, which results in more power when ignited.
The DeLorean
pulls its air from the passenger side quarter panel at the rear of the car. The cool outside air then passes through an intake hose, through the filter, and into the engine where it mixes with fuel and explodes.
Explosions
- it's no wonder guys like cars.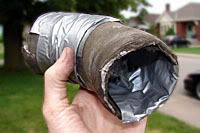 But I've
been having trouble making explosions in my DeLorean this year. For six weeks I was unable to start the D, and I couldn't figure out why. Turns out it was this piece of crap's fault. The intake hose, which had been taken off and put back on more times than Oprah's chub, was split and dented so badly, air couldn't pass through it.
I logically
worked through the process discovering that a) I was getting spark and b) I was getting fuel. So what was left? C! I mean, air. With a new air intake hose in place, life-giving oxygen rushed into the combustion chambers and exploded harmoniously. The D started instantly.
All of this
leads me to conclude that I like air. Two Martini-thumbs up for air, and two Martini-thumbs down to pieces of crap.