Tuesday Night DeLorean Fun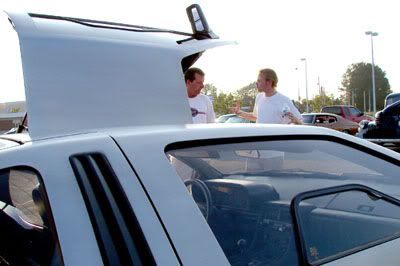 Last night
I rushed home in our 48C degree* weather, skipped dinner, threw a lawn chair into the DeLorean and high-tailed it over to Canadian Tire where, every Tuesday night, there is a car show.
It's not
really a car
show
, but rather a large gathering of collectible cars. "Food" wagons prepare all sorts of greasy things for consumption and a sound system cranks out oldies while owners exchange thoughts on the loves of their lives.
Although there are
some old, exotic and rare cars each week, like
this Austin Healey
, many of them are staples at car shows everywhere. The DeLorean, a rare car to begin with, is even more rare in Canada, and always attracts a lot of attention. Sometimes it's people who have never seen one before, and sometimes it's people who were fans of the Back To The Future movies.
I am always prepared
to answer many questions about the car, its history, Back To The Future, and even John DeLorean. People ask the same questions over and over again and I feel really great when I can educate these car-lovers about this stainless piece of history.
Yes
, stainless. Not aluminum as a few people thought. Yes, Ireland. Not built in Nova Scotia as a few people thought. And yes, DeLorean. Not
Bricklin
as one older fellow asked.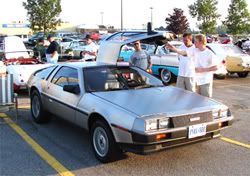 For two hours
I fielded questions and opened the doors so that excited attendees could take photographs using everything from professional-type cameras to cellphone cameras. In between questions like "
Is this really the car from the Back To The Future movies?
" I sat in my lawn chair and ate a congealed blob of grease which enveloped a small hamburger. It couldn't have tasted better. On a side-note, I did not see any Ham.
Our trip home
was just as entertaining. Travelling in the opposite direction was a van driven by a dude so enthralled with the DeLorean that he stuck his head entirely out his window and, bug-eyed, yelled "
Hoooooooly Shiiiiiiiiiit!
"
Laughing
with pure joy, Suz and I pulled into a gas station, filled up, then drove to the exit and waited to make a left turn. In the distance I could see the van approaching us again. He had pulled a U-turn and was heading back, determined to have another look. Not even the red light could stop him. He weaved through the intersection and pulled into the gas station with eyes bulging. He was so juiced up about the encounter that I couldn't resist answering a couple of questions before the blocked driver behind him honked. We both cringed. I took the opportunity to drive off, very happy that I made his day.
Continuing
the drive home, we received numerous thumbs up and shouts of "Yaaa!" as we effortlessly united boys across the city.
*
temperature with humidex.