A Sight For Sore Eyes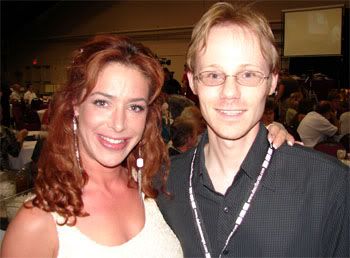 Although
I saw her many times during the
DCS 2006
weekend, it wasn't until the last night that I actually met Claudia Wells, who co-starred as Marty McFly's girlfriend, Jennifer Parker, in the first Back To The Future movie.
In her
sparkling gold dress, accompanied by her son who is addicted to 3M plastic picture hooks, she sat down for dinner at the table beside us. With mild butterfly-induced stomach-churnage, I clutched my copy of the Back To The Future trilogy and approached her.
"Hi Claudia. Sorry to bother you just before dinner,"
I said,
"but I would love it if you could sign this for me."
She very happily agreed to my request and prepared to sign the DVD case with a nifty black Sharpie. I giddily stood there, not expecting her first question: "And what's your name?"
I kind of
laughed when I told her.
"Marty"
I said. Claudia Wells, aka Jennifer, did a double-take.
"Really?"
She asked.
"Isn't that funny!""I know!"
I laughed again.
And she signed
my Back To The Future trilogy, underneath the english title, just to the left of the damn French title that, by law, has to appear on all Canadian DVDs.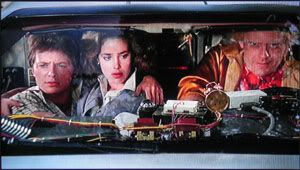 Claudia Wells
was cast in the first Back To The Future movie as Marty's awesome girlfriend. She's the one who warned Marty that
Strickland
was looking for him. She watched Marty's band get turned down in the auditorium, and she didn't get jealous when Marty got distracted by two aerobically-dressed girls in the parking lot. Here she is, sitting in the Mr. Fusion DeLorean at the end of the 1st movie.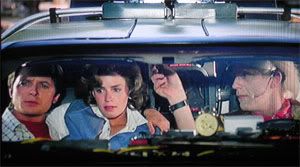 When
Back To The Future II came out, Claudia Wells was replaced by Elisabeth Shue. According to
imdb.com
, this was due to health problems. The opening scene of BTTF II was entirely reshot with Elisabeth Shue dressed in the same clothes, and uttering the same lines. Claudia's lines! When I was a kid, all I could think of was 'Booooooo!'
However
, now that I've matured (barely), it doesn't bother me. Besides, it's not like Elisabeth Shue is hard to look at.
But during the weekend
not one person mentioned Elisabeth Shue. I heard a few comments from guys such as "Who DIDN'T have a crush on Jennifer?" and other various "Claudia's hot" type remarks. Looking back at the movie, when she wrote her number for Marty, 555-4823, I wonder how many of those impressionable guys actually tried to call her. I didn't. But I asked my dad why they would show her number in the movie.
"Everybody's going to be calling her!"
I said.
Labels: Back To The Future, celebrities, Claudia Wells, DeLorean