Halloween Candy Oscars 2009 - Part 4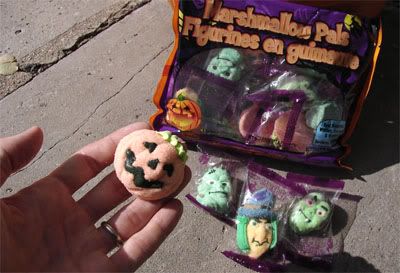 Stories
that start with "When I was a kid..." I find hilarious. Unless they aren't funny. Like the one below.
When I was a kid,
we didn't get marshmallow things for Halloween. Popular items were often things like pumpkin gumballs and movie monster candy sticks. A can of pop was like striking gold. And of course, there were the obvious chocolate bars, most especially coveted were Reese Peanut Butter Cups. But with all the children allergic to peanuts these days, Halloween safety seems to revolve around peanut avoidance rather than wearing brightly coloured costumes. IE Rainbow Brite or pretty much any of the Teletubbies.
Nowadays
there are a few marshmallow treats to enjoy. For the category of Best Marshmallow Halloween candy, I present to you once again the Hershey Pumpkin, and Frankford's Marshmallow Pals.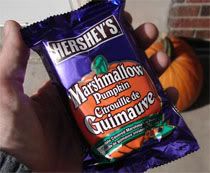 Hershey
has done essentially nothing with their marshmallow pumpkin over the years. Prices fluctuate, but the marshmallow unit basically remains the same. It's a fairly large, turd-like treat. The marshmallow is very gooey, and is covered in what seems to be dark chocolate, although the packaging does not state cocoa content. The pumpkin has a vague shape. It is round, a typical pumpkin shape. At the top there is a small protrusion which is intended to be a stem, but overall detail is poor.
I know
what you're saying. "
Who cares
!" Right? As long as it tastes awesome, really, who does care? Well, I suppose, people like me. But how it looks sometimes has to come second to how it tastes. And the pumpkin tastes good. Especially if you like dark chocolate. Personally, I feel it's like a 14 day old zombie; it's a little too strong.
Then there's
Frankford's Marshmallow Pals.
Hand-decorated
Marshmallow Pals! There are four classic Halloween "heads" - a witch, Dracula, the Frankenstein monster, and a jack-o-lantern. Did I mention they're
hand-decorated
? Each one has
incredible candy detailing
that crunches like fresh femurs between your teeth. It's hard to choose which one is the most impressive. The witch has a buckle across her hat, green candy hair, and a wart, while ol' Frankie comes complete with forehead scar and neck bolts. As an added bonus, the marshmallow is soft and perfect, not sticky or gooey.
Although
quite a bit smaller than the Hershey Pumpkin, Marshmallow Pals still pack a mouthful of terrifying tastiness. In fact, I find them to be my favourite treat of the Halloween season. Truly, they are edible works of art. Although I suppose technically the Mona Lisa is also edible.
Regardless,
Marshmallow Pals wins the Halloween Candy Oscar for Best Marshmallow Candy this year. And until Hershey steps up their game, or Frankford loses all their Chinese child labourers in some freak candy factory disaster, these creepy Pals are going to wear this crown for a very long time.
Check out Halloween Candy Oscars 2009 -
Part 5
Check out Halloween Candy Oscars 2009 -
Part 3
Check out Halloween Candy Oscars 2009 -
Part 2
Check out Halloween Candy Oscars 2009 -
Part 1