Disney World Halloween Party 2009
My entire life
I've been haunted by a memory which I couldn't place. I was in a round room, without doors or windows. Above me were paintings, or portraits of people. Slowly, the room began to stretch and the portraits with it, revealing that the people were sitting on things: barrels of TNT, tombstones, etc. Whenever I explained the memory to people, they all thought it was a mad hallucination.
When Suz
and I arrived at the Magic Kingdom early Tuesday morning, we bee-lined it straight to Disney's Haunted Mansion. I had been dying to go on this ride for as long as I can possibly remember, pardon the pun. Sitting on a slight hill, the creeptacular mansion beckoned me. I was meant to be inside that house.
And you
can all guess what happened.
I screamed
(with bloodcurdling joy) when our group gathered in the round, windowless, doorless room. I had been here before and I didn't even know it. I had no idea I'd been to the Magic Kingdom before, but my parents confirmed that I was about 6 when I was there.
We rode
it first at 9:30 a.m., followed by a second ride just after lunch. I was saving the final ride for the Disney Halloween bash known as Mickey's Not So Scary Halloween Party.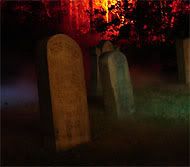 At five p.m.
Suz and I changed into our costumes, which Disney encourages. The park was closing and when 7 p.m. hit, only those who purchased Halloween Party tickets were allowed to stay and trick-or-treat until midnight. Everyone else got the royal boot, and were not permitted to have any more fun as they were bussed back to their respective Disney resorts.
We re-entered
the park in full costume. The train station, armed with hundreds of fog machines, had taken on an eerie transformation. As we walked down
Main Street USA,
decorated with scarecrows, jack-o-lanterns and other 'ween paraphernalia, I was greeted regularly with variations of "Hey Doc!" My homemade Doc Brown costume was a tremendous hit. Even Disney employees were coming up to me to comment on my handiwork.
After a few
guests stopped me and asked if they could take my picture, my Doc Brown costume caught the eye of a Disney employee in one of the parades. The stilt-walking employee stopped in the middle of the street, waving and calling to me emphatically. Suz snapped his picture and I gave him a Martini style thumbs up before he ran back to his position. I'll have to remind myself to thank Christopher Lloyd for all the attention!
Suz and I
spent the night trick-or-treating through the park and hopping on the odd ride. (Wait times were usually 5 minutes or less!) It was just as exciting to talk to the people who loved Doc Brown as it was to see the vast, spooky changes made to the park after sunset. It's truly incredible how the Disney engineers use flood lights and ultraviolet lights to change the appearance of nearly every major building. Most notable is Cinderella's castle, which is transformed, essentially, into a foreboding
>Castle Dracula!
Around 11 p.m.
we sat in the doom buggies for our third and final trip through the Haunted Mansion, which is hands-down the most phenomenal and engrossing ride in the park. In the end I was so dehydrated from the 95 degree weather, the costume, and hauling the heavy
bags of candy
around that I woke up with the worst "hangover" since last October, making it a true Halloween party.
And for those
who want to know what they give out at the Disney Halloween Party 2009, we had really decent stuff:
Hershey bars, O'Henry, Three Musketeers, Nestle Crunch, Reese Peanut Butter Cups, 100 Grand bars, Necco wafers, Bottle Caps, Kraft caramels, Laffy Taffy, Airheads, Bit o' Honey, Tootsie Rolls, Tootsie Pops, Lollipops, Giant Now & Later, Atkinson Peanut Butter Bars, SweetTarts, Starburst, Dumdums, Sassy Sours and raisin boxes.
Labels: Disney world, Doc Brown, Halloween, Magic Kingdom, Mickey's Not So Scary Halloween Party, vacation