I Cheated On John DeLorean
It was bulging,
and pressing up against a fireproof barrier. It was one of the first things I noticed when I bought my DeLorean: the patched muffler was actually touching the heat shield, and I vowed to replace it with something cool, more free-flowing, and in keeping with the car: Something stainless, like
this.
But the more
years that went by and the more I thought about it, the more I didn't like the idea. I had to decide if I wanted to keep everything stock, or get a bit more power, and a bit more fun, out of the car.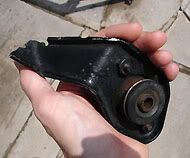 Then it happened.
Last July one of the muffler brackets must have froze in the intense cold of our Canadian summer, and broke. The muffler bracket is weak and typically breaks in the same spot. The DeLorean Motor Company in Houston, Texas, has an upgraded part to replace this bracket. All that is required is to take the rubber damper out of the original, and screw it into the new unit.
When I was
visiting McFly Motorsports in Ohio, I mentioned my broken bracket to Josh - and he handed me a new one. It was straight as an arrow, and looked much more functional that the mangled unit I had lying around at home, using my internets, eating my food, and drinking my juice. It was time to give the old bracket a kick in the ass.
But I couldn't bring myself to use the new, improved bracket. I felt like I was cheating on John DeLorean. First the replacement exhaust... and now this? I was already feeling guilty for using a stainless steel coolant bottle instead of the original plastic one that, over time, becomes so brittle it explodes, leaving you stranded.
Stranded
in the middle of the desert. In August. With nothing to drink but a huge puddle of delicious coolant.
I decided
to keep the original 1981 bracket. I took the two pieces to a shop called Zoro Muffler. I asked the owner if he could help me, handing him the two pieces. He told me that if it could be welded back together, we'd know in a few minutes.
It was
a success - and I paid the owner with two maple leaves and a donut, as that is the currency we use in Canada. I was happy to be able to use the original bracket. When my dad and I installed the new alternator, we first stabilized the muffler with the newly welded bracket.
Click here
for a close up of the weld, and
*here*
to see the entire bracket, in all its 28-year-old glory.
I think
Sir Mix-a-Lot said it best when he sang "...
because silicone parts are made for toys
". In many cases, it's best to stick with original parts.