Weetabix's New Minibix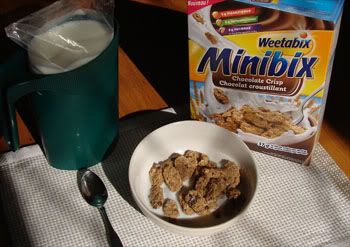 Using a skill
I mastered in kindergarten, I noticed something different on the store shelves while shopping for cereal recently.
I used
to like those "Spot The 10 Differences" type games until I realized what they actually were. Not exactly a test of your intelligence, but rather, an arrogant representation of the illustrator's apparent brilliance. By erasing one extra wrinkle under some crocodile's eye, or adding one extra millimeter to the bloody croc's third eyelash, the illustrator could simultaneously boost his own ego, and make millions of children cry when they could only find 9 of the 10 differences between the two stupid pictures of crocodiles having a picnic. With beavers. On the moon.
But
I digress.
What I noticed
on the store shelves was something which wasn't there before. It was a yellow box of cereal with the word NEW! splashed boldly in the upper lefthand corner. To be precise it was Weetabix's Minibix Chocolate Crisp cereal.
When I
thought back to my early childhood, I recalled eating Weetabix, innocently swallowing its mushy, sogged clumps. I couldn't pinpoint anything particularly terrible about those memories, so I gladly tossed the box into the lop-sided grocery cart.

Mere hours
later I was excitedly prying open the box of Minibix. With delicious-looking chocolate chips embedded in each rectangular wedge, I was expecting a delicious cereal treat.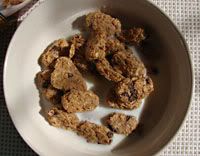 Upon eating
the Minibix, my childhood memories of Weetabix almost instantly came flooding back. And they were not good memories. The dripping sog was far worse than I ever recollected. The cereal had turned to pulpy sludge in only a few seconds.
Every now and then
my tastebuds danced with delight as chocolate passed over them, but it was not enough. The cereal was a failure. However, as everything and everyone deserves at some point, I gave it a second chance. But even the next day, when I was fully expecting the softness & squishiness, I just couldn't do it. I had to dump the bowl.
Finally,
I decided to try the cereal dry. Lots of cereal is eaten dry, as a snack. Some cereal even tastes better dry. Personally, I prefer any cereal marshmallow when it is dry and crunchy. I was hoping this new Weetabix would have some salvation in its dryness.
The rectangles
crushed in my mouth, sweet chocolate mixed with a sort of beige blandness of something similar to, but more fragile than corn flakes. It was.... okay.
Thankfully
Suz liked it more than I did and the box did not go to waste. However, I will not make the mistake again. Weetabix is simply another cereal to add to my long list of crappy Canadian cereals - which makes shopping for breakfast in the U.S.A. all the more exciting.
You will
only find me eating Weetabix in my winter years, feebly mashing the mush between my gums while I cry over my wasted years of youth.