It's CSI, But For Real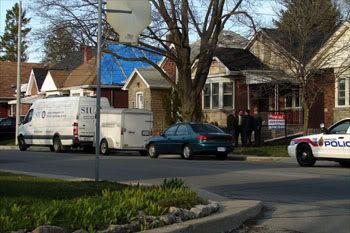 Tonight,
straight out of a Hollywood thriller, my street was crawling with police cruisers, SIU Forensic Identification vans, TV crews, and sombre-looking well-dressed men in suits.
The setting sun
cast an eerie light on the mystery house, revealing huge blue tarpulins pulled over it. The group of men stared at me as I snapped my photos. For the first time, I felt a little awkward taking pictures.
I could
only speculate as to what happened on this quiet street, only a few houses down from my friend Rachel, her parents, and her two sweet puppies that scour the fence separating her yard from ours.
For the
time being, rumor on the street is that it was a suicide. However, for the time being, I'm not buying it.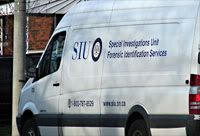 Why?
The news van for one. Suicides are not generally covered by the media, unless there are unusual circumstances. Secondly, the blue tarp covering most of the roof was just like a German movie with no subtitles; It just didn't make sense.
With the
blue tarp pulled over the roof, I could only think of a few possibilities. The first, was that there had been some sort of explosion inside which had severely damaged the roof, and would allow elements such as rain to enter and upset the "scene".
The second
was that something fell, perhaps from an aircraft, through the roof, and killed people inside. Either way, the Special Investigation Unit's Forensic Identification vans proved death was all around.
The unfortunate news,
however, is that this was not a movie set.
Labels: death, forensic identification, police, SIU