Scammed In Mexico
Although
I learned of the current dangers of Mexico nearly two months ago, the federal government of Canada has formally warned Canadians this week against travel there due to rising danger spawned by a failing economy. I'm not talking liquid bum type dangers here. No, Mexico is a country on the verge of collapse.
During our vacation,
we were lucky that we didn't find ourselves running to the toilet with clenched cheeks, and more importantly, that we didn't encounter any violence. But it's hard to imagine bad things could happen in the tourist-heavy Mayan Riviera. After all, tourism dollars is easy money, and why chance disturbing that cash flow?
In fact,
tourists, from Mexico's point of view, are loaded with cash - and it's their job to separate them from it. But instead of offering interesting or original souvenirs and mementos, many would rather pull a scam. And here's how one of those scams works:
With your luggage
in hand, as you head towards the airport exit, you'll be on the lookout for reps from your travel company. But you won't find them, because they'll be arrested if they set foot inside the airport.
Somehow,
the people inside the airport know exactly where you're going and impersonate employees from either your resort or your tour company, calling out, for example, "
Signature Vacations, over here
!"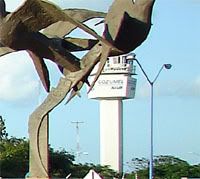 As you approach,
the friendly, well-dressed Mexicans will welcome you, pull out a map of the island, and proceed to show you where your resort is situated. They will continue, explaining where the best scuba diving and shopping is, and how much taxis cost. They will, in a nutshell, give you good advice and valuable information. And because they are inside the airport, untouched by security, you'll believe they are there to help you.
They'll ask
if you are planning on visiting any ruins or renting a car. They will tell you this is the cheapest, easiest and even safest way to see the ruins, as they claim the taxi drivers race along roads at very dangerous speeds and charge far, far too much.
They will explain
how they work in conjunction with the tourism board of Mexico and the government to offer tourists cheap rental cars and passes to the ruins in order to boost the economy. And it sounds perfectly reasonable.
They will
then offer you various 'packages'. For example, ours consisted of a rental car for 2 days, 4 passes to the Tulum ruins, 4 ferry passes, 4 free breakfasts at the Sandos resort and a bottle of Tequila. The total price is quite consistent; it will likely be $89 US.
Once you
hand over the cash (they don't accept credit cards) they will fill out an official-looking receipt and ask to see your driver's licences for the car rental. After they ask you to sign the receipt, they ask you to do something strange.
They'll tell you
that outside the airport, the men yelling "
Signature Vacations out here
!" are their competitors. They'll fold up the receipt, hand it to you, and tell you to hide it. They'll ask that you do not let their competitors know the great price they gave you, because they'll be very angry that they did not make the sale.
If you
actually read what you signed, you'll see that it's a timeshare scam. In order for you to receive the "gifts" that you
paid
$89 for, you must attend a 90 minute seminar/presentation on buying a timeshare at the Sandos resort. And if you do any research into this, you'll see it's a very "hard" sell, where you'll essentially be locked in a room until you've agreed to buy a timeshare.
If you're landing
at the Cozumel airport, don't give money to anyone. And if you see Adrian Torres, give him a kick in the balls, and tell him Martini says hi.