Subjective Sound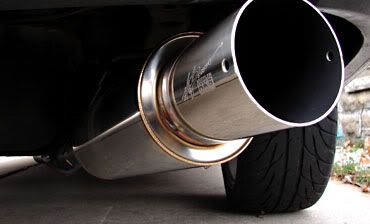 So, there I was
driving along and minding my own business on the last day of November when my rearview lit up like the 4th of July with a Regional Police Officer right on my tail, destroying my lifelong record of never being pulled over.
I couldn't
believe it. I hadn't done anything wrong and almost started to panic, trying to think of all the paperwork I needed to show him.
Was my insurance
up to date? Yes. Was my licence in my wallet? Yes. Uh-oh. Where was my ownership? My brain was working overtime trying to figure out where everything was while at the same time what this officer could possibly be stopping me for.
My window came down and I sat patiently but nervously. The officer approached my door, glanced inside to make sure I didn't have a great big pile of cocaine on my lap, and gave me the answer. In a very professional but abrupt manner he declared that he was giving me a ticket for having an illegal exhaust, then walked away.
When he
returned he asked for my licence, insurance and ownership. My brain had not failed me and I provided all three to him without a problem.
I asked
him what exactly made my exhaust illegal. His answer made sense, but did not apply to my exhaust. He claimed that my aftermarket muffler was designed specifically to create excessive noise. He claimed he heard me coming when I "sparked up" my exhaust.
This made me
very upset. Firstly, my exhaust is quiet and it's extremely improbable that he heard it. It is more likely that he saw the highly visible polished muffler with the well-known HKS logo etched into the side and assumed I was a street-racing teenager with a bad attitude.
The reality
is quite the contrary. I have full respect for the law and have often aided the police in their appeal to the public for information on aggressive drivers. I have both a cousin and a best friend who are officers in the line of duty and a female cousin who is a retired Detroit officer.
That's right.
I said Detroit.
Secondly,
why was he using drug terminology to describe me? What exactly is my muffler? Some kind of giant joint? I don't even know what sparking an exhaust means, and I was fairly certain that when one is driving calmly in a long line of traffic at exactly 52 kph, one's exhaust wouldn't spark.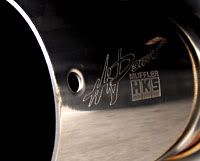 The most important thing
here is the fact that my exhaust is quiet. I showed the officer my old exhaust sitting in the back seat. I explained how I had just replaced it, specifically with a quieter one, because my old exhaust of nine (9) years was too loud even for me. Quietness was of great importance when I replaced my exhaust and this beautifully polished stainless steel HKS Hi-Power unit came with the recommendation of my mechanic.
Searching
for more knowledge to help me avoid getting pulled over again I asked the officer what the decibel level had to be in order for my exhaust to be considered legal.
His answer
was surprisingly illogical. Tugging his earlobe he angrily stated that he did not have have a decibel meter in his ear. He claimed that if something drew his attention, it was illegal.
That's right.
By his definition of what is illegal, the paint colour of some cars could violate the law. So could a pretty girl. What an absurd thing to say. And, he had dodged answering my question.
Because
of this incident, I don't feel safe anymore. If the police, who are supposed to be protecting taxpayers from the dangers of criminal behavour are now wasting everyone's money and time by pulling over those very same law-abiding citizens for preposterous reasons, then who is stopping the criminals?
The issue
of volume is what's in question here and I'll admit my exhaust is louder than my hybrid. But it is far from excessive, unless the officer had a hangover. The sound is on par with a V8 Mustang, and is certainly quieter than any Ferrari, Lamborghini, Viper, truck, or city bus out there.
I am fighting
the $110 ticket and, whether good or bad, will post an update with the results.
The results:
Hypocricy of Ontario's Policing System
Labels: Eagle Talon, exhaust, illegal, police