Halloween Candy Oscars 2008 - Part 4
Watching all
these Freddy & Jason movies at Halloween has really got me in the mood for cutting and slashing. As you can see, with Halloween just around the corner, I'm really cutting it close with my Halloween Candy Oscars!
Sticking
with that theme, I'm moving on to best gummy candy for 2008, starting with the gory body parts found inside the Spooktacular Mansion. The mansion is essentially a shoebox. On the box is a cartoonish haunted house surrounded by goofy-looking ghosts with their tongues hanging out, a couple of bats and a few truly evil-looking jack-o-lants, perhaps to offset the silliness.
For less
than nine dollars you get 70 gummy body parts. These body parts include severed ears & noses, a poppped-out eye, gruesome disfigured hillbilly teeth and, confusingly, a pair of lips. But really, the lips may be the most frightening gummy of all as you feebly attempt to imagine of how this precision act was accomplished. Yes, the mystery of how the lips were sliced off will gnaw at your brain while you gnaw on the surprisingly un-bloody lips.
The colours
of the Spooktacular Mansion gummies are simple and muted. In fact, there really are only two colours on the gummies: pink and white. But the eyeball contains a black pupil of death that's worth mentioning.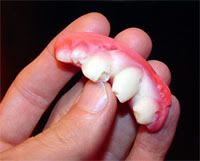 The overall
detail on the Spooktacular Mansion gummies is not excellent. There are air bubbles and imperfections in them. In my twisted & scrunched opinion, however, this actually adds to the effect of the teeth, my favourite of the bunch. The overall flavour of the gummies is good. They're not the best I've ever had but there is nothing bad about them and if I caught you throwing one out I'd smack your face. You heard me.
Dead
set (pardon the pun) on regaining the title after losing
last year,
Frankford has brought back their creepy coffin full of Gummy Body Parts for another go at it. For about eleven dollars (just below the average donation to GreenPeace) you get 100 gummies. Body parts have remained the same with a bloody nose, dismembered foot, severed ear, severed thumb, eyeball and set of Dracula fangs.
The Frankford gummies
are very yummy. My mutated taste buds prefer their bloody flavour over the Spooktacular Mansion gummies. The colours are also very good. Blood is red, while skin tones are pink. Other details are white.
If you enjoy
displaying your candy rather than eating it, Frankford wins, first with their superior detail on the actual body parts and again with their creepy, nifty and cardboardy reusable coffin display container. If you love all things Halloween and always wanted a coffin displayed in your bedroom but your mom wouldn't let you because uncle Christopher was starting to stink up the place, this is a good compromise.
These are
the kinds of details that really send great companies over the top. For their superior Halloween packaging and overall better gummies, Frankford wins yet again as I award them the Halloween Candy Oscar for the best Gummy Body Parts. Two vampire fangs up for their good wholesome gummy flavour and the super special coffin they come in. Eating blood body parts hasn't been this fun since, well, last Hallowe'en.
Check out Halloween Candy Oscars
-
Part 3.
Check out Halloween Candy Oscars
-
Part 2.
Check out Halloween Candy Oscars
-
Part 1.