Hallowe'en Countdown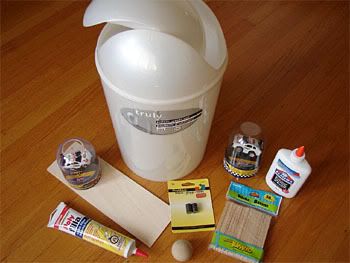 Corpses,
blood, severed heads, death, the stench of rotting flesh, and something creeping around in the dark. Yes, October 1st is here and the Halloween countdown has begun. If you're like me I know you're thinking, "
I won't be able to sleep
" and it has nothing to do with those eyes staring at you from outside your bedroom window.
But for me
Halloween started a long time ago.
It started in April,
when I ordered goodies for half price. And then it continued into August and September when I began working on my costume for 2008.
This year
I'm tackling the biggest, most ambitious costume project I've ever attempted. And if things continue the way they're going, it's also going to be the most expensive costume I've ever made.
Supplies
have been rather difficult to come by, but I'm doing my best to find cheap items that will work.
A trip
to Michaels Arts & Crafts store ran me a total of $13 for magnets, glue, wooden popsicle sticks, and a wooden doll head. Zellers did me proud by offering an $8-dollar garbage can. A $10.50-trip to Home depot netted me some Polyfilla, a roll of duct tape, and some incidentals.
Things were
getting expensive so to remedy the problem the Dollar store saw some costume action. There I purchased two micro remote controlled race cars that say absurdly logical things like "Power", "Speed" and "Momentum". I also bought two salad bowls and some snacks.
Finally,
I snagged a courduroy deal at Fabricland, taking home the last 2 metres of material for only $7. For secret's sake, I've left out 4 items which total $24.
My running total
is up to about $66.50 with work done on my costume clocked in at about 8 hours. And there is still not one single part of it that is wearable. That's not bragging - this thing looks worse than Roseanne Barr sounds.
When the results
are fantastic, putting this much effort into a costume makes me proud. But if this turns out as crappy as I think it might, it makes me think I should cut my losses, hop in my
Time Machine,
go back and start over with something a lot more simple. Like hiding under the bed all night and pretending I went as the Invisible Man.