Blockbuster: Worst Rental Outlet. Evar.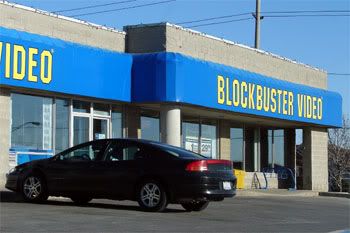 Blockbuster Video
, the largest video rental company in the world, has been entirely ruining the video rental experience since 1985.
How?
You're asking yourself that very question right now. I know. That's because I'm smarter than all the Rainmen managing all the Blockbuster's in the world, combined. If you work at Blockbuster, my condolences. I know it isn't your fault. I know you feel the same way I do... because I've talked to you.
Now,
before you Blockbuster managers leave me thousands of hate-comments, I would like you to give me a fair and logical explanation for the following shit Blockbuster has pulled for years.
Why can I rent
the crappy sequel to any movie ever made, but not the fabulous original? Seriously. Tell me why I can rent Gremlins 2: The New Batch, but I'm not allowed to rent Gremlins, after midnight, or ever. Tell me why I can take home Batman Returns, but if I want to see Jack Nicholson play the Joker in 1989's biggest summer blockbuster (pardon the pun), I have to buy that movie somewhere else. Tell me why you've got The Gods Must Be Crazy II, but I'm the one who's crazy if I want to see the original. Why do you have straight to video garbage like the four-year old Hellraiser: Hellworld, but none of the first four original theatrical releases?
I'm sure
there are more modern examples, I just haven't wasted my time looking through my two local Blockbuster's for them where there's more shelf space for candy than there is for genuine movies.
While that
exclusive little Blockbuster feature is perpetually annoying, the most frustrating thing is their complete lack of selection. My home DVD collection is larger than either of my two local Blockbuster's. And that's not saying much considering my entire DVD collection is worth less than a new 2009 Chevy Aveo. And that IS saying much because GM is practically giving those things away.
We used to
avoid Blockbuster at all costs, but every little independant rental shoppe that dares to go up against the brainless goliath is out of business within the year, forcing Suz and I to rent at the vomit-inducing blue and yellow store.
To give you
an idea of just how terrible my local Blockbuster is, here's an example of what's on their shelves this week: 55 copies of Nick & Nora's Infinite Playlist, which NOBODY was renting, and ONE copy of the award-winning, 5x Academy Award nominated, and 5x Golden Globe nominated, Frost/Nixon.
Which
was rented.
There is
one thing I like about Blockbuster, however. My favourite part of each visit is answering that ever-so-friendly question, "
Did you find everything you were looking for?
"
The answer
is always no. But during this most recent visit I had to ask, "
Do you seriously only have one copy of Frost/Nixon
?" The reply? "
Yeah. Sorry. It's ridiculous. But that's what head office sent us
."
Do you
hear that "head office"? Even your employees know how ridiculous and stupid you are. LEARN.
Labels: Blockbuster, movie, video