Signature: A Stand-Up Company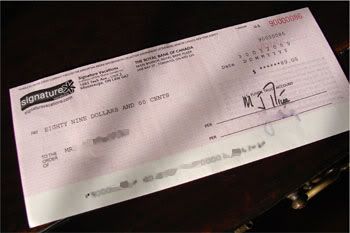 These days
good customer service is what sets companies apart. After all, the quality of just about everything is nearly identical because let's face it, it's all made in China. So personal experience with a company is what makes the difference.
When it comes to
companies that deal almost exclusively with "service", good customer service is what keeps them in business. And Signature Vacations is absolutely one of those companies.
After
we were
scammed in Mexico
by moustachioed persons impersonating Signature Vacations representatives, Suz wrote a letter expressing our discontent and suggesting very strongly that Signature should have warned us.
It's only fair
that the tour company should have announced to their passengers that tour representatives were not allowed in the airport. Consider that anywhere else in the world, travellers expect to meet their tour reps inside the airport.
Suz's letter
explained in great detail the devious plot by the scoundrels, and how they were able to walk away with eighty-nine of our hard-earned U.S. style dollars. After some investigating and confirming, a Signature Vacations rep wrote back the following message:
----- Original Message -----
From: (content deleted)
To: martini@awesomeguy.ca
Sent: Saturday, March 14, 2009 1:21 PM
Subject: Gettin' hosed

Dear Mrs. Martini,

(content deleted)

The content should be treated as confidential and the recipient may not disclose this message or any attachment to anyone else without authorization.

It is true.
I do not have permission to share the email with anyone. I do however, have every right to give everyone "the gist" of it.
Signature
was "pleased" that we "took the time" to contact them regarding the ongoing scam. It seems as though they had been dealing with this for quite some time. They informed us of two very excellent things.
First
, they would be processing a refund for us in the form of a cheque. And true to their word, a cheque arrived shortly afterwards for the full amount we were scammed out of, in U.S. dollars. A few key areas have been altered by yours truly so that the evil Adrian Torres, Scoundrel Extraordinaire, can't forge it.
Second,
they said they had contacted Skyservice and told their pilots and crew to make an announcement on all subsequent flights to Mexico informing passengers that their tour reps are
outside
the airport.
This was vital
for the protection of all tourists and was more important to us than the money. Again, they were true to their word. A co-worker who returned from a Skyservice vacation to Mexico not one week ago confirmed that the announcement was made on her flight.
Two Martini-thumbs
up for Signature Vacations and for Skyservice. With a reaction like this, in an economy like this, they really deserve more than I can offer for taking action to protect their customers.
---------------
Update: Signature Vacations filed for bankruptcy. It's a shame good guys finish last.