ODOC Tech Day 2009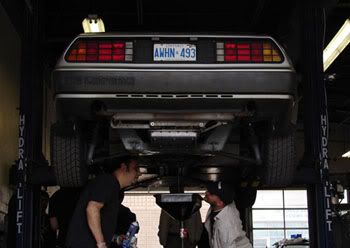 Like a
Star-Trek deprived teenaged nerd whose model cement had run out mid-Countach, I lamented the perfectly running DeLoreans that surrounded me as I stumbled into the parking lot, my rumbling exhaust causing commotion.
ODOC's
"tech day" 2009 had arrived and ten DeLorean DMC-12's, including yours truly, showed up for the Oakville event. Sydney Automotive had graciously donated the use of their hoist for the day. As long as you had the time and the parts, anything went.
President Ken
greeted me immediately. Although we'd spoken via email a number of times, it was the first time we'd met face to face. I instantly felt welcome among the eclectic group of DeLorean enthusiasts whose ages ranged from about 20 to 80 and whose tattoos ranged from about zero to 80.
With the
formalities out of the way, Ken got to work examining everyone's fuel/air ratio with his dwell meter. Based on how badly my DeLorean was running, it was a safe bet my ratio was more messed up than Amy Winehouse. But we were all in for a surprise, as Ken declared mine to be "
the only one with proper readings
."
Suz and I
wandered around meeting the other owners while repairs went on both in the parking lot, and on the hoist. On the agenda were coolant bottle replacements, oil changes, angle drive replacements, ball joint inspection and angle drive lubrication. But one crucial inspection was desired by all - the achilles heel of the DeLorean, the trailing arm bolt.
Up on the hoist
I eliminated a ticking timebomb, almost literally. The angle drive is the cable system that controls the speedometer. Once it starts ticking, it is about to snap. I lubricated the cable with silicone lube and bought myself some extra time... Just enough to save some school children trapped in bus. Or something.
Before
my car came off the hoist, the group gathered 'round to have a look at the dreaded trailing arm bolt.
Two bolts
(one left, one right) are quite literally the only things holding the rear suspension onto the car. Unfortunately, the wrong grade of steel was used, and over time, the bolts bend, distort and eventually snap. The result is devastating and causes uncontrollable weeping.
Click here to see the results of the bolt failure!
Mine were
in perfect condition and required no attention. It looked as though it was updated with
this kit.
But another DeLorean was not so lucky. The severely bent bolts changed the mood in the garage. "
Don't hit any potholes
" was heard more than once. Indeed, a cautious drive home was recommended.
But when
you're driving a car that sits 4 inches lower than a Corvette and just out of view of anyone in anything bigger than a Ford Escort, being cautious on the highway is always prudent.