Weird Fall Harvest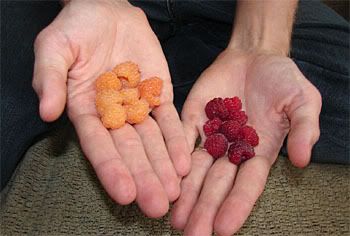 With mutant fruit and
nightmarish spiders
building human-sized webs in my backyard, even my garden knows something creepy is in the air. Yes, Halloween is coming.
Even now
our raspberry bush is producing mass quantities of the delicious fruit that is its namesake. The red berries are delicious. The red berries are juicy. But that's not all.
When I
first saw these white raspberries growing on our raspberry bush in late July I thought they simply weren't ripe yet. Then I noticed something. The pee-coloured berries were falling off, landing in the snot-coloured grass, and turning to mushy ectoplasmic goo.
So, of course
I decided to eat a few of the white raspberries. They were very sweet, but had a much different flavour than the red berries hanging on the branch beside them. I couldn't say for sure that I liked them yet, there was nothing really 'wrong' with them.
Curious,
I checked Google & Yahoo to see if I could find any information on the mutant berries. To my surprise, I couldn't. All I could find was more people asking more questions about what they are, and what they're worth. Finally, I stumbled across
this link,
informing my uninformed brain that they're actually called Golden Raspberries and indeed, they are rare. Delving deeper into the mystery of the pee-coloured berries, I found this site:
Supermarketguru
.
It seems
people like the uriney berries. And that means, to be fair to the poor berries, I'll have to give them one more chance to delight my tastebuds before the frost kills them all.
There's a moral
to this story: It just goes to show you shouldn't judge anything by its colour. Except crayons. Yeah. You pretty much get what you ask for with crayons.
And yellow
doesn't necessarily mean yucky. Except pee.
Labels: raspberries