Sweet Swanson Service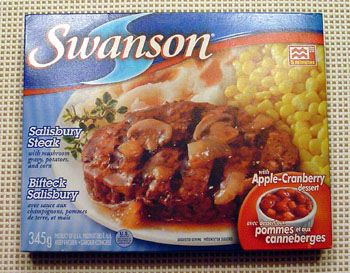 The cafeteria
at my workplace is a bit of a joke. You'd get a bigger, better meal at Swiss Chalet for the same price. There are no world-class gourmet chefs working in our cafeteria, and I am not a millionaire. This is not a fantasy world.
That is why
I buy frozen dinners and bring them to work. Surprisingly, even 300g Swanson Dinners provide twice as much food for a fraction of the price. Instead of the café robbing me of about $35 a week, the Swanson Dinners and juice boxes cost me less than $15 each week. That saves me about a thousand dollars a year. Seriously.
But I had a concern
about my lunch the other day. The mushrooms on my Salisbury Steak were replaced by a hideous pile of onions. So I contacted Swanson and asked them about this.
Hi
I've been bringing Swanson Frozen Meals to eat at work for years now and I was sad to see the sudden change in the Salisbury Steak. Gone were the mushrooms, only to be replaced by onions. I hope that this is not a permanent recipe change, and you go back to using mushrooms. The artwork on the box still depicts mushrooms, so I'll keep my fingers crossed.

Also, I would like to say that the saddest of all was the demise of the Mexican Fiesta dinner, at least in Canada. I bought that particular dinner by the cart-load, and truly miss it. Are there any plans to offer it in Canada again?
 
Thanks for your time,
Martini
---------
Before the
workday was over, I had a reply!
Dear Martini:

We are sorry that you were disappointed with your purchase of Swanson® Salisbury Steak Dinner. All ingredients and containers are inspected before use. Each step of the product's preparation is also carefully monitored. Despite all of our precautions, it appears that the container for your product was not properly filled. We are sending you a coupon via Postal mail, which you can expect to receive within ten to fourteen business days.

Unfortunately, we do not have any plans at the present time to market the Mexican dinner again. Contact us again if we can be of assistance in the future.

Sincerely,
Darlene Peters
Consumer Response Representative
----------
I wasn't expecting
anything for free. What a surprise! It would seem that the folks at Pinnacle Foods (Swanson's Parent Company) are very devoted to pleasing their customers. Two thumbs up for Pinnacle Foods and Ms. Peters for her super-quick response.