D-Rex Will Crush Your Face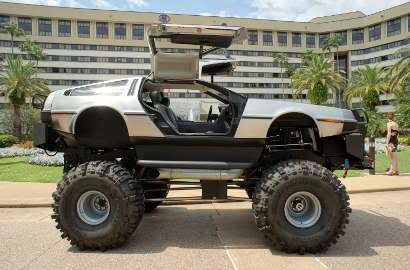 Six years ago DCS Chicago celebrated the 25th anniversary of the DeLorean. It was the first DCS show I'd ever attended. I've now been to 4 shows, and the awesomeness hasn't dwindled.
D-Rex, the monster truck DeLorean returned to DCS 2012, and this time I got to see and hear it driving. Sure, it's not a true PRV-powered DeLorean: it's a DeLorean body on top of a Chevy 4x4 chassis. But it's huge, it's loud, and it's awesome. Alongside Rich's D-Rex was his Limousine with six, count 'em,
six gullwing doors.
In addition to these two, the DeLorean Motor Company had the new DMC EV on display. You know the one. It's been all over the internet.
The interior
is updated and includes door launch buttons! It will purportedly use a 400 volt AC induction liquid cooled electric motor producing 260 hp (194 kW) and 360 lb·ft (490 N·m) of torque providing 0-60 mph acceleration of 4.9 seconds. Would you pay $90,000 for one?
The DeLorean
prototype
, named Proto1, was back again and owner Tony Ierardi announced it would be changing hands.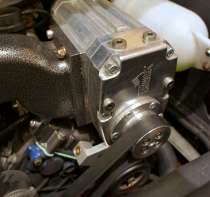 Additionally, five unique-engined DeLoreans included the stage III supercharger (5 psi), a carbureted version, a Corvette LS1 engine swap, an Acura TL 3.2L engine swap and a turbocharged Toyota Supra inline six (2JZ) engine swap.
Back to the Future stars like Jeffrey Weissman (George McFly), Andrew Probert (artist), Kevin Pike (F/X) and writer/producer Bob Gale also joined in the fun. Claudia Wells (Jennifer Parker) even remembered my name - Marty. Should I be impressed? As if that wasn't awesome enough,
Don Fullilove
aka Mayor Goldie Wilson made an awesome surprise visit, awesomely posing for photos and signing (awesome) autographs.
Awesome.
Finally, making a very special appearance was the only screen-used DeLorean in private hands.
The Time Machine
from Back to the Future III was on display and, not surprisingly, drew a crowd.
Despite (usually) being the only Canadians at the DCS shows, we always have a great time and have made a couple of very close friends. If you weren't at DCS Orlando, you missed an amazing time and should plan on attending DCS 2014 in Dayton, Ohio.
Oh and if you recall, I was going to talk to James Espey regarding the unusual spare tire I have. Unfortunately it completely slipped my mind. Maybe he'll drop by my blog again with an answer.
DCS 2010
DCS 2008 #1
DCS 2008 #2
DCS 2006 #1
DCS 2006 #2
DCS 2006 #3
Labels: Back To The Future, Bob Gale, celebrities, Claudia Wells, DCS 2012, DeLorean, Delorean Car Show, Don Fullilove, Jeffrey Weissman