A Whisky Contest for Bender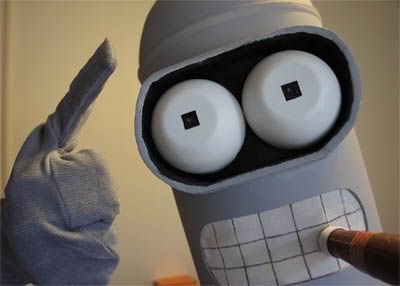 "Good sir, what has your Bender costume been up to lately?"
- Random Internet People
In a word (plus an article of speech), a contest! Bender's been battling for one of the coveted top five positions over at World Whisky Day's
photo contest.
Master Blender Richard Paterson will then choo-choo-choose the winner from those five photos.
During the first week I was actually surprised to find myself in the top five but that didn't last long. Over the Easter weekend my photo slipped to sixth and then seventh place despite Blair Bowman himself
connoting on Facebook
that my photo was brilliant!
It took some perseverance, but I pulled through and am currently mid-pack of the top five.
Many of the photos in the running are really great. Excellent even. And I'd be happy just to finish in the top five. But let's face it. It would be even sweeter if I actually won that fantastic prize.
Can Bender pull it off? I think so. After all, my photo encompasses more of the whisky-drinking marketplace than the others, as mine is the only top photo to feature women. And I am sure Mr. Paterson recognizes that the whisky market is more than men. Because someone wise enough to have blended what's been declared the world's best blended scotch in TWO prestigious competitions is surely wise enough to include men, women AND robots.
I sincerely thank everyone who has voted for me. A HUGE thumbs up from your favourite spirit-chugging robot, Bender!
-----------------------
You can
click here
to see what Blair Bowman said.
-----------------------
Update May 2012: My photo did not win. The winner was a great outdoor photo by Klemen Saje from Slovenia. My congratulations to him!
Labels: Bender, contest, costume, scotch, whisky, Whyte and Mackay, World Whisky Day