La Maison du Whisky, Paris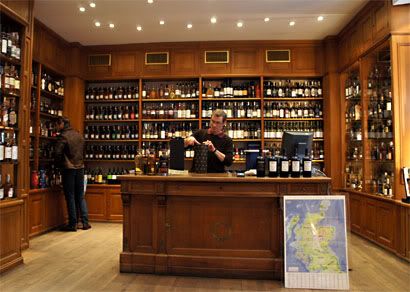 The LCBO's Whisky Shop is a valiant effort to duplicate what France's La Maison du Whisky perfected decades earlier. The Paris shop opened in 1956 and sells extremely limited, special and rare bottlings of whisky along with many regulars.
After an hour or so of walking in the rain, I found LMDW tucked down a little street north of the Champs d'Elysees, just west of La Madeleine. 20 Rue d'Anjou to be exact. It's a beautiful corner store filled with beautiful rare bottles, with a beautiful custom "MW" push to open the door.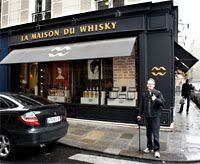 When I entered I spun around, a la Julie Andrews, to take in the views of all that was on offer. I guess my excitement was apparent. Despite being dressed in my laziest pair of jeans and grungy old running shoes the amazing staff seemed genuinely happy I was there. Like I was an old friend.
I realize how cliche that sounds but it's difficult to explain the feeling when I was allowed into their private collection room to take photos. It's a small room with bottles to the ceiling, so I used my wide angle lens
to capture a few
that meant something to me. I can only assume they were for sale, but I didn't ask.
Although a small store by North American standards, La Maison du Whisky is full of incredible bottles. How incredible? What do they have? How about a Glenfarclas Family Cask 1965 just shy of 500 Euros? Or the
1957 Auchentoshan
50 year old? Or Glenmorangie Pride?
If you want it, La Maison du Whisky (probably) has it. Unless you happen to be looking for the 1975 Auchentoshan 35 year old.
Sorry. I bought the very last one - the display bottle.
Labels: 1957 Auchentoshan, 1975 Auchentoshan, auchentoshan, Glenmorangie Pride, La Maison du Whisky, Paris, scotch, shopping, whisky