I Just Want It To Work!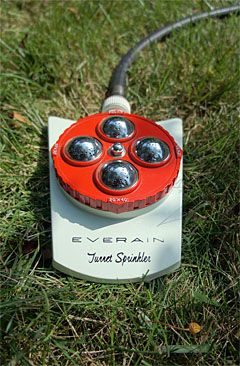 I'm having an identity crisis. I live in the future. I use futuristic technology. And I occasionally enjoy that technology.
But today's tech is total crap. Yet because of my age I'm forced to embrace this glitchy crap technology that requires 78 calls to tech support and 99% of the time they don't even know how to fix it.
How many times have you heard, or said, "
the system's down
." The system! THE SYSTEM! Why do we all rely on the system? What IS the system? I have a poo-making system. I put food inside me and my system turns it into modern technology. I mean shit. Sorry. "The system" is an all-encompassing term that basically means nothing because you yourself have no idea what it is. And your system is different than my system and OH DEAR GOD IT'S DOWN!
Old stuff doesn't go down and ruin your day. I'm not buying a new forty-five dollar plastic sprinkler with a fifty dollar digital timer. Gimme a break. First, I don't want to call tech support for a freakin' sprinkler. Second, I'll turn the water off when I BLOODY WELL FEEL LIKE IT.
I chose the simpler, more reliable path. I chose technology from 1960. I chose a New Old Stock Everain Turret sprinkler. With ONE moving part. It goes perfectly with my Weber charcoal grill. It goes fittingly with my TWO-STROKE Lawn-Boy mower. Clean air and life on earth be damned! I WILL have reliable technology!
And so I will set aside the mind-bogglingly awesome
box it came in
. And I will carefully remove
the tag
that declares there to be only 4 different lawn shapes. And I will water my lawn.
I will endure the taunts from other 30 year olds who think I'm some grandpa who doesn't know what a twitter is, or why people want to talk on the skype. And to prove I'm still hip and cool I'll go to Starbucks and order one of those free wifi's all the coffee shops are giving away.
Labels: technology