Crushed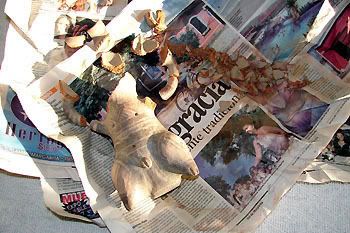 Buying souvenirs
is difficult. I never know what to buy. Bits of jewellery sell in abundance along tropical beaches, but I don't know anyone who wears bright aquamarine stones, seashells and shark teeth.
Even though
my mom is difficult to buy for, I still do my best to bring her back something. And this year, that something happened to be a small clay figure that was really quite neat looking.
The problem with clay
is that it's sort of on the fragile side. And, unfortunately, airlines are not famous for gently stowing traveller's luggage.
Our luggage
, probably stowed beside the landing gear, was crushed to atoms by the hydraulics when the wheels were retracted. We were able to salvage my Scooby Doo boxers, a shoulder strap, and my mom's headless clay figure.
Saddened by
the demise of 'Roger', I printed a photo of us standing in front of the mountains, put it into a nice frame, and gave that to my mom instead. To explain the situation, I showed her the above picture of what her souvenir should have been, and she actually asked me to print it for her.
The best thing
about a photo of the obliterated 'Roger' is that my mom will never have to worry about knocking it over.
But
the next time I visit my parents, I hope I don't find 'Roger' sitting in that frame instead of me and Suz. That would just crush me.