Tender To Environment
My sister
gave me some packing material. I am not moving, yet I still found much enjoyment in the packing material. This packing material came from the land of the rising sun, successfully preventing the destruction of some sensitive Honda vehicle parts. I hope you find enjoyment in it as well.
ECO-PACK, tender to environment
Super Ecolo Anincorporated Company
15-1, Tegara, Himeji, Hyogo-Pref., Japan
Phone: (0792) 22-2951

Since this bag contains "Ecolo-master", tender to environment, it serves to powerfully eliminate the hydrogen chloride, a factor to generate the dioxins from general refuse within incineration furnace. It also brings about such effects as to reduce the acid gas generated.

Different from conventional buffer material
- Recycled product .
- You may throw "Eco-pack" after use as a general wastes.
- You can burn "Eco-pack" in low calorie.
- "Eco-pack" is not edible.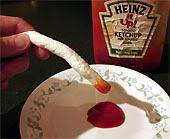 I disagree.
In trying to eliminate my own acid gas, which was the main cause of undie-destruction, I went against the bag's recommendation and ate some Eco-pack fries. The Ecolo-master bits are edible, however, they're not the tastiest thing I've put ketchup on. And stop making fun of the disgusting condition of my ketchup bottle. It's not like I've got nine kids who make ketchup & onion sandwiches every day.
Are you
in the packing industry? Looking for a way to reduce your environmental footprint? Feeling guilty about the terrible things you've done to the planet? Give the Super Ecolo Anincorporated Company a call.
The most
cost-effective way of acquiring some top notch Japanese packing material is to order one sack, then ask them to pack it carefully with their high-quality Eco-packs you've heard so much about.
Use the
Eco-pack to protect such things as historical Japanese artifacts you've smuggled out of their country, the new 500-hp, all-wheel-drive Nissan Skyline, and your Hello Kitty bobblehead collection.